Suffolk Vehicle Enthusiasts Club
New!

Its is hoped that a cut down "mini" Hurricance Run can be arranged for October, because of covid limitation on numbers attending gatherings only 30 places will be available see October Newsletter or
events page.
The possibility of other events taking place will be reviewed as the situation progresses and
we will inform you here on the web site, in the Club Newsletter and via event bookings when they will restart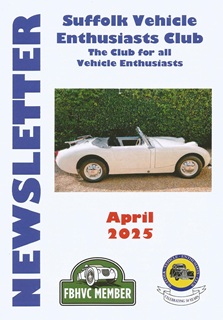 Welcome
The Suffolk Vehicle Enthusiasts Club is probably the largest Club catering for all vehicles, in East Anglia. It has been in existence for thirty years.
During the rally season, we support many local charities by providing vehicle displays for their functions.
A monthly Newsletter keeps members
in touch with what is happening in the area
and also has articles, news, views and
members' adverts.
Member of the Federation of British Historic Vehicle Clubs
If you are looking for the Swale Vehicle Enthusiasts Club in KENT, please click HERE
Event Organisers
please click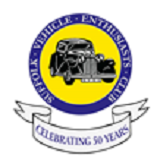 for more information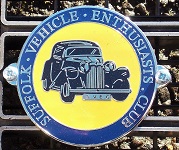 Club Car Badges and Lapel Badges - see Colin at club nights